Squat racks are popular in many gyms, but they're also pretty common at home and in garages as well.
Don't let the name fool you, there are lots of squat rack exercises that you can do, whether you're a complete beginner or an experienced athlete.
While it's most common to see someone performing squats in the squat rack (or that one clown who wants to do bicep curls).
It's really easy to do a full-body workout whether you use equipment or not.
Just a barbell, a bench, and a few weight plates and it's easy enough to do the big 5 compound movements.
Squats
Bench Press
Deadlift
Shoulder Press
Bentover Row
Most squat racks also have a pull-up attached and possibly even a dip bar attachment as well.
That being said setting up a barbell at hip height also give you the ability to easily do straight bar dips also.
And even without a bench, you can still do a variation on bench presses called a floor press.
This post is going to detail all the different squat variations you can do at a squats rack, so don't think your barbell squats are just going to be racked up on the back!
That being said a barbell isn't the only piece of equipment you need to use in a squat rack, dumbbell squats and kettlebell squats (goblet squats) are fine as well.
Just like dumbbell presses and any kettlebell movement are fine to do.
Check out these squat accessory exercises to see how to get more out of these pieces of equipment.
If you're using the squat rack at a commercial gym don't be that one person that decides to use the squat rack to do a dumbbell movement if someone is wanting to do some heavy lifts that need the rack.
If you have floor space available don't use the rack just so you can see yourself in the mirror!
What Are Squat Racks Good For?
Well first off, squat racks are great for setting up a barbell so you can do squats!
They make it much safer for you to get heavy loads onto your back before you drop down into the full depth of your squat!
Trying to lift a loaded barbell up off the floor then over your head onto your shoulder can be very dangerous.
Using a smith machine is even safer still as the barbell is attached to the rack and has adjustable safety bars stopping you from dropping too low and crashing to the floor!
Squat racks or a power cage as they're also called, are a great addition for a home gym but only if you have the space!
They do require a decent amount of room, and not just the rack itself but the extra plates as well.
If you squat much heavier weights you'll need to store those plates somewhere as well.
Can You Bench Press With A Squat Rack?
You most definitely can as long as the squat rack you have lets you set your hooks low enough down the rack to perform a bench press.
And if you going to be doing these at home and even by yourself I would recommend getting safety bars as well.
These are easily adjustable and could just save your life.
Failing that I also encourage you to leave the collars off the end of the bar when bench pressing.
This is for safety also, you don't want to risk failing a lift and having a heavy bar stuck on your chest.
If you leave the collars off it's easy to lean the bar to one side so the plates slide off onto the floor.
Sure failing a lift sucks but it's not worth dying for.
Sometimes it's worth putting your ego aside and just training with lighter weights when you're on your own.
How Do You Use A Squat Rack For Beginners?
Carefully.
The first thing you want to be able to do is a bodyweight squat with proper form.
With your feet just outside of shoulder-width as close to parallel as possible.
Lower yourself as you are going to sit in a chair.
Go all the way down until your hip crease is lower than your knees.
Keep your back straight and chest and maintain a braced core.
As you stand back up drive the weight through your heels and push your knees outward to avoid them buckling back inward.
If you can perform squats safely without weight you can move on to doing back squats with light weights.
A squat rack is also a great tool for beginners to learn how to do pull-ups as well. And with the aid of a resistance band to help you move through the movement under lighter loads you can progress fast!
Which Way Do You Stand In A Squat Rack?
It is always safer to stand facing into the squat rack, especially when doing movements like back squats.
The last thing you want to be doing with tired and sore legs is trying to walk backward and find where to rack the bar back up again.
So always think about how you are going to finish the exercise and whether or not your going to be able to get the bar back into position safely.
The Best Squat Rack Exercises
Ok time to get in the good stuff.
The 25 best exercises you can do with a squat rack!
Most of these exercises can be done with a barbell, dumbells, or even kettlebells.
Some don't require any extra equipment at all.
So read through and find out what exercises are going to be best for you and your routine!
So in no particular order (I actually wanted to get into some non squat variations first!).
Let's get into it the 25 best exercises!
1. Inverted Row
Start off by setting up a barbell in the squat rack at about hip height.
Next, you want to pull yourself under with your legs straight out in front of you with the weight on your heels.
Straighten out your arms so you're looking straight back up to the racked barbell.
Now start pulling yourself back up towards the racked barbell and aim for your chest to touch the bar.
Try to squeeze your shoulder blades together.
Now lower yourself back to the starting position.
Bend your knees before starting if you are having difficulty with this exercise.
Or set the bar up higher so you begin on a steeper angle.
2. Bar Dips
For this, you will either need a dip attachment bar.
If not see straight bar dips.
So with the dip bars set up at about chest height grab onto each bar and jump up on top of the bar.
You want to keep your wrists coming straight up and down for this exercise.
Lower yourself down until your upper arms are parallel with the floor.
Try not to lean too far forward and keep your elbows tucked in tight to your body.
Now press back up into the starting position.
3. Straight Bar Dips
A great exercise to pair up with inverted rows for a superset as you need the bar set up at a similar height.
Inside on hanging under the bar though we're going to grip the bar just outside your hips and jump up on the bar so our weight is coming down through our hands.
Slowly lower yourself down and let your head move forward.
Keep your legs straight and bring them up in front of you.
Your head and legs both moving forward are going to help counterbalance you as well as give greater core activation.
Lower yourself down until your sternum touches the bar then press back up to the starting position.
4. Hanging Knee Raises
Grab the pull-up bar that runs along the top of the squat with both hands at about shoulder-width.
Bring your feet together and keep your toes pointed and your legs straight. Draw your belly button in so that your hips shift back behind now.
This will keep your core braced, you want to keep this engaged through the whole movement.
Slowly bring your knees up towards your chest and slowly lower them back down again. If you relax your core this is going to feel too easy.
Don't take shortcuts by relaxing your core.
5. Push Jerk
This exercise is a common accessory movement for Olympic lifting.
It's just one part of a clean and jerk, one of the two lifts you see performed at the Olympic games.
Set the barbell at chest height, step under the barbell, and rest it along your chest and clavicle bones.
Hold the bar in your hands with your elbows facing forward.
Wrist mobility is going to play a big part in how high you can get your elbows.
This is what we would call the front rack position.
Do a partial squat or a slight dip in your knees and push back up with enough momentum that when you stop the barbell lifts up off your chest.
Now as the bar travels up you want you quickly duck under the bar and straighten your arms out.
You will catch the bar in a squat with your arms locked out and straight above your head.
Now stand back up before lowering the bar back down to your chest.
6. Decline Bench Press
For this exercise, you'll need an adjustable bench press.
You'll need to lay back on the bench so that when you're set up under the bar your waist is higher than your chest.
A decline bench press is performed the same as a bench press but you'll be targeting your lower chest muscles.
Check out these 18 best weight bench exercises!
7. Incline Bench Press
Similar to the decline bench press only now you sit up on the bench rather than laying back on it.
You want your chest to be higher than your waist with your body back at about a 45-degree angle.
Once again very similar to a normal bench press only now we're targeting more the upper chest and shoulders.
8. Rack Pull
While you can do this with normal hooks, it's definitely going to be easier using longer safety arms or even just longer hooks.
Start by setting the bar at knee height.
Set up like you would for a deadlift only the bar is only going to go back down to the safety bars rather than all the way to the floor.
Keep your core engaged for this exercise as it can be a dangerous exercise for your lower back if you let ego and poor form get in the way.
9. Overhead Squats
The first squat variation we're going to look at is actually more of an upper body strength and mobility exercise than one that's going to leave your quads torched.
Set the bar up and chest height then grab the bar and set it up into a front rack position.
Now set your grip wider before you press it overhead and behind lowering down into a squat with your arms locked out.
The wider you set your hands the easier it is going to be to hold the bar over your heels but you won't be as strong.
This exercise requires very good shoulder mobility.
10. Zercher Squats
Set the ber up at hip height.
And walk into the bar and let it rest in your elbow crease.
You'll need to step your feet out a little wider for this movement.
As you get down into the bottom position you need to make room for your elbows which will now be between your legs!
Check out this article and find out all the amazing benefits of Zercher squats.
11. Back Squats
A back squat is when you have the barbell set across your shoulder blades.
You can lift much heavier weights with the bar in this position and of all the squat variations is the most common and offer more strength gains.
Heavy squats with the bar set on your back are going to give you a strong core as so much of the load comes right through the middle!
12. Front Squat
Front squats are a great variation if you are already training a lot of cleans in your routine.
And because the load is on the front it's going to help improve muscle mass in your quads more so than a back squat.
Be mindful of good form as the risk of injury increases with this different position of the bar.
13. Hanging Leg Raises
Ok so now that you can do hanging knee raises let's take them to level 2!
Same set up as before only now you're going to keep your legs straight.
To begin with, just aim to bring them up to hip height.
But as your core strength improves the final goal is to bring them all the way to the bar without bending your legs!
Check out the 7 best dynamic core exercises!
14. Chin Ups
Chin-ups and pull-ups confuse people with their subtle differences but the main thing to look at is the handgrip.
Chin-ups are done with an underhand grip and that will bring your biceps more into play.
Try and keep your legs straight and your toes pointed and always bring your chin up over the bar!
15. Pull-ups
Now let's turn out grip around so our knuckles are facing towards up.
This variation is more difficult as you no longer have your biceps helping the pulling muscles in your back.
But the pull-up is what's going to give you the strength to move into exercises like a muscle-up.
16. Ice Cream Makers
Another movement is done on the pull-up bar you'll find at the top of most squat racks.
Grab the bar like your would for a pull-up and pull yourself up so your forehead is just under the bar.
Keep your whole body stiff and straight and straighten your arms and bring your legs up.
You should now have a long straight body parallel to the floor with your arms out straight. lower yourself back to the starting position.
17. Wind Shield Wipers
One of the more difficult core exercises you can do on a pull bar.
Pull yourself up until you are near the top of a pull-up.
Now bring your leg so they are facing straight up in the air.
Keep your body at a right angle so you are now under the bar with straight arms.
Keeping your legs straight up in the air start twisting your body from one side to the other your legs will make a windshield wiper motion.
Want to know more pull-up bar ab exercises? Read this article next.
18. Push Press
This exercise often gets confused with a push jerk.
The big difference is that you keep pressing your arms with the momentum you create to send the bar upwards.
So instead of dropping back under the bar, your hands keep pressing it up until the lockout.
After the initial dip to start pressing the bar your legs stay locked out.
19. Barbell Lunges
Set the bar up and chest height so you can walk into it and set it up in the front rack position.
From here you can step out into forwarding lunges or backward lunges.
Both are fine, but if you're like me and tend to get a bit of pain in your knees stepping back is probably going to be best for you.
If you want to take these even further try doing them holding the bar over your head!
20. Bench Press
A traditional bench press is another great chest exercise you can do at a squat rack.
But again if you are at a commercial gym don't do them here is a bench with its on bar catchers free.
Keep your feet flat on the floor if you are just starting out with a bench press and drive the weight back up through your chest muscles.
Make sure you squeeze them tight at the top of the movement.
21. Overhead Presses
Now that we've gone over push jerk and push press let's take all momentum out of the movement.
Same set up as the other two by starting in the front rack position.
But now without any leg drive, you'll find it much more difficult.
This is a great compound exercise for building your shoulders and triceps strength.
22. Head Bangers
Set yourself up as you would for a chin with your hands in the underhand grip.
Now pull yourself up so you are eye level with the bar.
Instead of lowering yourself down your going to straighten your arms out pushing you away from the bar.
You are going to feel this mostly through your biceps.
Push yourself back and forward for as many reps as you can.
23. Dragon Flags
This is a great core exercise you are going to do at the foot of the squat rack.
Laying on the floor to you have your head at one of the posts of the squat rack reach up over your head and hold the base.
You keep yourself long and straight lift your body up so your feet touch the bar as high as possible.
Now slowly lower yourself down as and keep your body as straight as possible under you touch the ground.
24. Bulgarian Split Squat
Grab yourself a set of dumbbells or kettlebells and the bench.
With the bench behind you lift up your left foot and rest it on the bench either on the top of your foot or the ball of your foot.
Step out forward a bit with your right foot so that you're standing out almost in a lunge stance.
Lower yourself down through your right foot let your left hinge float down towards the floor and then press back up to the starting position.
25. Calf Raises
The last exercise we'll go over is calf raises.
You can do these with a barbell or any other free weights.
But they work best if you have a small plate form you can stand on.
But to save yourself some money, just use one of your weight plates.
Stand on the edge of your plate so you can lower your heels down towards the ground then press back up onto your tippy toes.
Calf raises need to go through a full range of motion or you're just wasting your time.
Check out the video below where I do 100 calf raise for 30 days and got great results!
Best Squat Racks For Home Gyms
If you're interested in adding a squat rack to your home gym I've got two options here for you to check out.
Remember though that squat racks can take up a lot of space and are not the most necessary piece of gym equipment.
But if you have the space and it's what you want, then these are the two I recommend.
Most Veristile Option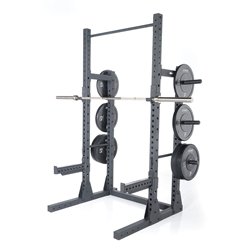 Granite Series Half Squat Rack
Best Value Option
Portable Squat Rack
Conclusion
A squat rack is a great tool for more than just a leg workout.
Play around with a combination of these 24 exercises to get a great full-body workout in.
Get yourself your FREE copy of my Ebook 'Train Wherever The F*ck You Want!'