Lack of space shouldn't be a reason to skip your workout.
Maybe your gym has closed down (a common occurrence these days) or maybe you are fed up with commuting every day to the gym after work.
Or maybe you have realized that you do not need top-of-the-range gym equipment to progress towards your fitness and health goals.
Home workouts are all you need.
A home workout is a simple and effective solution to a lot of excuses people have that prevent them from working out.
Home workouts are the solution to no time, no motivation, and no budget.
Problems can arise when the space we are working out in is minimal.
There is a belief that we need stacks of space and equipment to optimize our gains which can leave us with another excuse to not work out.
What if we can debunk that theory, right here, right in this article?
Is it possible to effectively work out and make progress in a small space, without always banging your head on the wall?
Of course, it is! Having a small living space isn't even a bad thing. 
If you live in a small apartment or dorm room, you are forced to get creative with your home workout, which can do wonders for your workout and motivation.
In as little as one square yard of floor space, you can create a simple home gym.
A home gym is a great way to keep active and maintain a healthy weight.
But you don't need a lot of space or fancy equipment to get a great workout in.
So, how much space do we need to work out in? What can we do to burn calories in a small space?
What is the best equipment to use in a small space? All to come in this article!
How Much Space Do You Need To Workout?
The space you need to exercise in can be as small as your wingspan.
That's right.
Stand up now and stretch your arms out on either side of you. Spin in a circle.
That's all the space you need for a workout!
If you are given a small area to work out in, then I recommend sticking to bodyweight exercises and using as little equipment as possible.
In this small amount of space, you can perform the most important, fundamental bodyweight exercises.
These exercises consist of push-ups, pull-ups, squats, and a ton of variations!
Now, I know a lot of people frown upon bodyweight exercises, deeming them as too easy and if you want to get in shape, throwing weights around is the only way to do it.
That couldn't be further from the truth. 
Bodyweight exercises are the perfect way to challenge your body in as small of a space as you like.
If you can put a mat on the floor, you can work out with bodyweight exercises. 
A little side note, if you didn't know this about me, I believe anyone can work out wherever they want.
Even if you haven't got a massive amount of space to work out, you still can.
If you are stuck on how to work out at home, or in small spaces, I recommend these two resources to get you started!
First, check out my free Ebook – 'Train Wherever The F*ck You Want!'.
This is a perfect source for all those variations of bodyweight exercises that are amazing for any home workout.
Second, if you are someone who prefers being shown how to perform the exercises, then check out my YouTube video below, which shows you some brilliant exercises to perform in a small area, even in a tiny house!
Even if you feel like you NEED equipment to work out with, you have multiple options.
Unfortunately, a treadmill or barbell probably isn't an option in a small area, but a resistance band is more than welcome for me!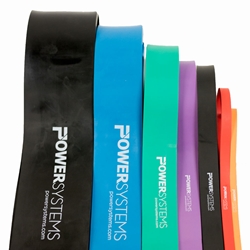 Strength Band Medium
How Do You Burn Calories In A Small Space?
Bodyweight exercises have another stigma behind them – you should only do them if you want to be muscular or strong. 
This is also not true, it's all about how you perform your exercise routine. 
High-Intensity Interval Training(HIIT) is an absolute beast at burning calories and ultimately helping you lose fat. 
The best part? 
You can do it with bodyweight exercises anywhere!
HIIT is pretty simple.
Take your normal home workout, and just up the ante. Short periods of intense exercise with even shorter breaks.
There are all sorts of exercises and routines on the internet for HIIT, perfect for small spaces, that involve bodyweight exercise and cardio exercises.
An example workout, that you can find variations of in my free Ebook, could be a circuit of push-ups, burpees, squats, and jumping jacks.
This will have you sweating buckets and very satisfied if the intensity is what you are after.
Want more on HIIT? Check out this article on whether HIIT is the best form of home workouts!
If HIIT is a little bit too intense, then cardio exercises are also great for burning calories.
High knees, squat jumps, and jogging on the spot are all good at burning calories in a small space.
Not as good as HIIT, but does the job.
What Equipment Is Best To Use In A Small Space?
I love this question, as it gives me another reason to state why my good ol' mates known as resistance bands are so great.
You can use them anywhere.
Everywhere and anywhere.
They are great for providing an efficient resistance workout, allowing you to progressively overload in your dorm room. 
Even small weights like dumbbells and kettlebells aren't the best for small spaces, possible, but not as good as resistance bands.
 If you need some equipment for a home gym, I get most of my equipment over at Power Systems.
If you want an example of some exercises you can add to your home routine with resistance bands, check out my video all about them.
Maybe you are looking for something a bit different, a bit out there.
Why not try purchasing a jump rope?
Jumping rope is great for burning calories, and stimulating your muscles and your brain, all in a small space.
Sometimes, jumping rope gets swept under the rug as not being that effective, but it is great as a warm-up, and is a great full-body workout!
Best Ab Exercises For Small Spaces
If you are familiar with my blog or my YouTube channel, you will know I hate sit-ups and I hate crunches even more.
These are deemed as "the best" ab exercises, but they aren't. 
They are awful for the spine!
However, I have got an arsenal of the best ab exercises that can leave you with a strong core, and with the right diet, washboard abs!
If you've already watched my video of working out in a tiny house, you'll have already met one of my favorite ab exercises, the "ice cream makers".
With a pull-up bar or a make-shift one, in my case, lift your body off the ground, keeping yourself as straight and under as much tension as you can.
Lift your legs until your body is horizontal, trying to target the core as much as you can.
Repeat as many times as possible to blast the core!
For core exercises, you don't need any specialist equipment, and the plank and side plank hip lifts are both incredible examples of that.
Squat thrusts are a more intense version of an ab blast, but all of these in combination will leave a well-earned burn in your abdominals. 
Takeaway – Top 3 Tips To Exercising In Small Spaces
If this article should have shown you anything, it is that working out is possible no matter what.
If you think the area that you want to work out in is too small, then have a look at the exercises you are doing.
All it takes is an open mind,
My top 3 tips for making the jump from a gym workout, to one in a small space at home may seem obvious, but are easily forgotten:
Keeping yourself safe is important when working out. Now, I don't mean by eating and staying hydrated, I mean making sure you do have a decent amount of room to maneuver in. Banging your head hurts!
The best home gym for a small area is, in fact, the one with the least amount of equipment. Bodyweight exercises are a brilliant home workout and I urge you to give it a try.
Get yourself a yoga mat. This will make working out on the ground a load more comfortable!
All in all, working out in a small space is both possible, and the workouts can be effective, no matter the goals.
Anyway, get yourself out there and chase your goals!