Working out while you're on the road can be tough, but it doesn't have to be impossible.
By using these 20 hotel CrossFit workouts, you can keep fit while traveling, making sure that you don't let your physical fitness deteriorate during your travels.
Note that all of these workouts should be performed at moderate intensity, and before attempting them you should already have experience with similar exercises and feel comfortable in your ability to perform them safely and effectively. 
Whether you're stuck in a hotel room on vacation, for business, or the dread isolation/quarantine these workouts will help not only keep you in shape but keep you sane!
Let's also dive into what CrossFit is, or even if it's the type of exercise you should be doing.
What Is CrossFit?
The first step to making your hotel room workout more effective in finding out what CrossFit is, and how it can help you lose weight and keep fit, even when there's no gym around.
Practiced by millions of people all over the world, CrossFit aims to improve fitness through constantly varied functional movements performed at high intensity.
In other words, it's about keeping fit with a program of movements that will challenge your body to build strength and endurance in equal measure.
Before you start adapting these workouts for hotel-bound use, read on for an introduction to CrossFit so you know exactly what you're aiming for.
CrossFit workouts tend to be categorized as spices or sauces.
Spices are short, simple routines—anything from a couple of exercises or sets up to 20 minutes long—that aim simply to get your heart racing and lungs working hard.
These could be considered daily maintenance sessions designed not just to burn calories but also enhance performance later on in bigger training days.
On the other hand, sauces are anything from 20 minutes upwards.
They tend to have special names like Murph (named after fallen soldier Lt Michael Murphy) and choruses like Fran—names designed only partly as nods toward dramatic irony since both are seriously tough workouts themselves.
Why Is CrossFit So Expensive?
The average monthly cost for a gym membership is about $45, and that's before you even get to buy any equipment or pay for an initial consultation with a personal trainer.
If you're just beginning to work out, paying thousands of dollars upfront can seem like a steep investment—and it might not be worth it if you're still struggling to commit to consistent exercise.
That's why so many fitness fanatics choose to create their own hotel CrossFit workouts: these single-body exercises require no special equipment and are designed to increase your strength and stamina in isolation, which means they can take place anywhere at any time.
Did you know it's also super easy to get stronger from home now? Check out this article explaining everything you need to know about strength training at home!
Can You Do CrossFit Without Equipment?
Yes!
All you need is your body, an empty hotel room, and some basic moves: squats, lunges, push-ups, and sit-ups—all of which can be adapted to be done without equipment in a hotel room.
These are all bodyweight exercises, meaning they require no external weighting such as dumbbells or kettlebells (which many people don't travel with anyway).
Side note, I take my packet of resistance bands with me every time I travel.
It's so easy to do a quality workout with bands. And they don't take up much space in your luggage either!
They're also very easy to do anywhere; no space is required other than that taken up by your own body.
Once you try them out, trust me.
You won't need any gym equipment to keep yourself in shape while on business trips or vacations.
But it doesn't stop at CrossFit, it's so easy now to do achieve any of your fitness goals without equipment.
Check out this article I wrote on how to get ripped without equipment!
Is CrossFit Safe?
The short answer to is CrossFit safe? is that it's not unsafe if you're doing it right.
For example, most people think of box jumps as an incredibly dangerous exercise—but if you do them right, they can be great for your fitness level and are a lot safer than many other exercises out there.
The key to getting a good workout while staying safe is knowing what's going on in your body and thinking about which exercises will help you and which might hurt you, even slightly, in some way.
There are a lot of resources for learning about how to do things safely.
If something looks bad or hard to learn how to do, don't do it until you've learned how to safely execute that movement.
Want to know if home workouts are in fact better than workouts at the gym?
I got you fam! Read this article next.
Want to take your bodyweight Crossfit workouts a step further?
Get yourself a weight vest!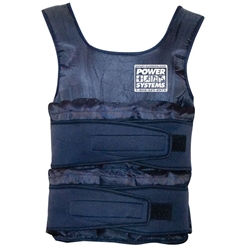 VersaFit Vest 40 lbs
The Best Bodyweight Workout's To Do In A Hotel Room.
For time complete 100 burpees.
100 air squats, rest 3 minutes, 100 Push Ups, rest 3 minutes, 100 Sit-Ups.
10 handstand push-ups, 200 Double Unders – 3 rounds
10 vertical jumps, 10 push-ups, 10 sit-ups – 4 rounds
Handstand 1 minute, squat hold for 1 minute – 5 rounds
20 jumping jacks, 20 burpee tuck jumps, 20 air squats – 3 rounds
Annie – 50-40-30-20-10 Doubles and Sit-ups.
21-15-9 Rep Rounds for Time, handstand Push ups, chair Dips, push-ups
5 rounds: 100 jumping jacks, 100 mountain climbers
50 rounds of: 1 squat, 1 push up, 1 situp, 1 superman, 1 tuck jump
For time: 50 burpees, 75 flutter kicks, 100 pushups, 150 situps
10 Burpees, 25 Push-Ups, 50 Lunges, 100 Sit-Ups, 150 Air Squats – Do this as a pick me up, burpees, burpees-push ups, burpees-pushups-lunges
15 Amrap – 5 Handstand push-ups 10 pistol squats 15 sit-ups
40-30-20-10 – Walking lunges, push-ups
21-15-9 Jumping squats, diamond push ups,
and a 30-second hollow rock hold at the end of each round.
10-9-8-7-6-5-4-3-2-1 Rep Rounds for Time, burpees, push-ups, sit-ups
50-35-15 – Leg lifts, pushups, situps
10 Rounds for Time, 10 push-ups, 10 squats.
7 rounds for time: 7 squats, 7 burpees
If you want some more CrossFit motivation then check out the video below.
My wife and I entered a Crossfit competition at only 3 weeks' notice!
It was tough, but it was such a fun experience.
Check out how we went.